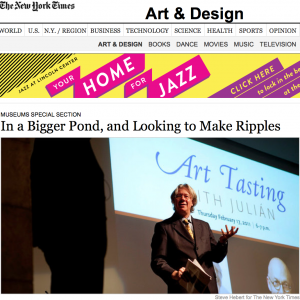 The New York Times Museums Special Section article, "In a Bigger Pond, and Looking to Make Ripples" is about Julian Zugazagoitia, the new director of the Nelson-Atkins Museum in Kansas City, and his hope to broaden the Museum's appeal. He's started a conversation series called, "Art Tasting with Julian" and says he has been "using these increasingly popular monthly conversations with his curators as a way of getting to know the encyclopedic collection better himself and to loosen up ways of looking at art for the public."
He goes on, "I'm not portraying myself as the voice of authority, I'm just embodying the art enthusiast asking the questions that you wouldn't usually ask the specialist, like 'Why is this good? Why did this enter the collection?' That's what's been fun for the audience."
I think it's an excellent start in repositioning the Museum to be friendlier, more accessible, and is completely in line with the trend of audiences looking for more curated experiences. The series has been done before at other museums and should certainly be done more often. Here's why. For infrequent and occasional attendees, and from what we often hear in research, the lament is, "I don't understand the art, I feel stupid, I don't want to feel stupid, therefore I don't visit more often."
Who among us in the visual arts, and in the performing arts as well, has not experienced this? Over the years there's been an increase in the desire for greater explanation around artist intent, more information on the artists themselves, and information that contextualizes the art.
From a branding viewpoint, it seems that Julian's initiative is intentional in repositioning of the Nelson-Atkins. To be sure, the Museum already has much going for it: a great Asian art collection, solid collections in other areas, a fascinating juxtaposition of classical and contemporary architecture, "an emblem of real quality and excellence in Kansas City," and a host of other positive attributes. What the Museum needs more of is "perceived accessibility" — the holy grail of museum branding and marketing. Julian mentions that even the building itself can be intimidating to occasional visitors, before they've even entered it.
It strikes me that Julian's modest effort, among the other marketing and communications activities that the Museum has going on, is helping change a misperception of the Museum. It's a solid, sincere, initial effort to help the perception of the Museum be more approachable and inviting to a broader and hopefully more diverse range of visitors.